The 2022 Sanlorenzo SD96 is a luxurious and spacious yacht, measuring 29.10 meters long. This stunning vessel boasts an elegant exterior design, with sleek lines and a modern silhouette. The interior of the SD96 is equally impressive, featuring a contemporary and sophisticated aesthetic. The yacht can accommodate up to 10 guests across five cabins, including a spacious owner's suite. The outdoor spaces are equally inviting, with ample deck space for relaxing, sunbathing, and enjoying the beautiful views. The SD96 is equipped with state-of-the-art technology and amenities, making it the ultimate luxury yacht for cruising in style and comfort.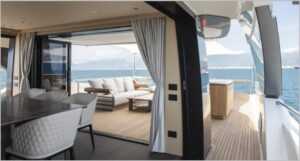 Here are some specifications for the Sanlorenzo SD96 luxury yacht:
Length Overall: 28.95 meters (95 feet)
Beam: 7.15 meters (23.5 feet)
Draft: 2.10 meters (6.9 feet)
Gross Tonnage: 240 GT
Fuel Capacity: 12,000 liters (3,170 US gallons)
Water Capacity: 2,000 liters (528 US gallons)
Material: Fiberglass
Engine Options: Twin MTU 10V 2000 M86 diesel engines with a maximum power output of 1,361 hp each
Maximum Speed: 20 knots
Cruising Speed: 11 knots
Range: 2,400 nautical miles at a cruising speed of 11 knots
Accommodations: The yacht can accommodate up to 10 guests in 4 or 5 cabins, depending on the layout chosen by the owner. There is also space for a crew of up to 5 members.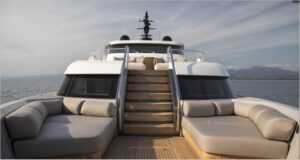 The Sanlorenzo SD96 luxury yacht offers a wide range of benefits and features that make it a desirable vessel for those looking for a comfortable and luxurious yachting experience. Here are some of the benefits and features of the Sanlorenzo SD96:
Spacious Interiors: The yacht features an open-plan layout with large windows, creating a bright and airy living space. The interiors can be customized to meet the owner's requirements and can include up to five luxurious cabins for guests, each with an ensuite bathroom.
Outdoor Living: The SD96 has a large flybridge that offers ample space for relaxation and entertainment, with a sunbathing area, bar, and optional hot tub. There is also a spacious aft deck with a dining area and a swim platform that can be used for water sports or as a beach club.
High Performance: The yacht is powered by twin MTU 10V2000M86 diesel engines that provide a maximum speed of 20 knots and a cruising speed of 11 knots. The yacht also has a range of 2,400 nautical miles at a cruising speed, making it ideal for longer journeys.
Customization Options: The SD96 can be fully customized to meet the owner's requirements, with a range of options for the interior layout, finishes, and amenities. The yacht can also be equipped with optional extras such as stabilizers, upgraded engines, and a Jacuzzi on the flybridge.
Luxury Amenities: The yacht offers a range of luxury amenities, including high-end audio-visual systems, air conditioning, and a fully-equipped galley. There is also space for a crew of up to five members, who can provide a range of services including catering, maintenance, and navigation.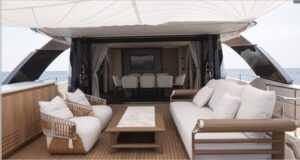 Sanlorenzo SD96 Luxury Yacht Pros & Cons
The 2022 Sanlorenzo SD96 is a luxury yacht that offers a range of features and amenities that can make it an appealing choice for prospective buyers. However, like any vessel, it also has its drawbacks. Here are some pros and cons of the Sanlorenzo SD96 luxury yacht:
Pros:
Spaciousness: The SD96 offers ample space for guests, with four staterooms, a large salon, and a generous outdoor deck area.
Comfortable cruising: The yacht features stabilizers that help to reduce motion while underway, providing a more comfortable experience for passengers.
Customization: Sanlorenzo offers a high degree of customization for their yachts, allowing buyers to tailor the vessel to their specific preferences and needs.
Advanced technology: The SD96 features a range of advanced technology, including a state-of-the-art navigation system and entertainment options.
Cons:
Price: The SD96 is a high-end luxury yacht, which means it comes with a correspondingly high price tag.
Maintenance costs: As with any yacht, the SD96 requires regular maintenance and upkeep, which can be expensive.
Limited range: The yacht has a range of around 1,200 nautical miles, which may be limiting for some buyers who want to travel long distances without refueling.
Crew requirements: The SD96 is a relatively large yacht, which means it requires a full crew to operate and maintain, adding to the overall cost of ownership.
Overall, the Sanlorenzo SD96 is a luxurious and well-appointed yacht that offers a range of features and amenities that can make it an attractive choice for those looking to invest in a high-end vessel. However, its high price tag, maintenance costs, and crew requirements are important factors to consider before making a purchase decision.
FAQ
The price for the Sanlorenzo SD96 Luxury Yacht can vary depending on various factors such as customizations, location, and currency exchange rates. However, as a general guideline, the starting price for a Sanlorenzo SD96 yacht is around $8 million USD. Keep in mind that this is only a rough estimate and that the final price could be significantly higher depending on the options and features chosen.